Originally published in Hebrew in



Published 26/05/20 09:06

An illustration posted on Iran's supreme leader's website titled "Prayers in Jerusalem" features Hezbollah Secretary General Nasrallah, Hamas leader Haniyeh and even Quds Force commander Qasem Soleimani, who appears in cloud form. Prompting outcry on social media as users proclaim: "Iran underestimates president".
Iran's supreme leader, Ali Khamenei, posted on his website Monday an illustration of recognized leaders who support Iran praying with the al-Aqsa Mosque in the background, along with an Arabic and Persian caption: "Prayers in Jerusalem." The image may appear to be naive, but that's not the case. On social networks in Syria, the illustration has sparked discourse about President Bashar Assad, whose likeness in the image has been pushed behind the leaders shown in the illustration.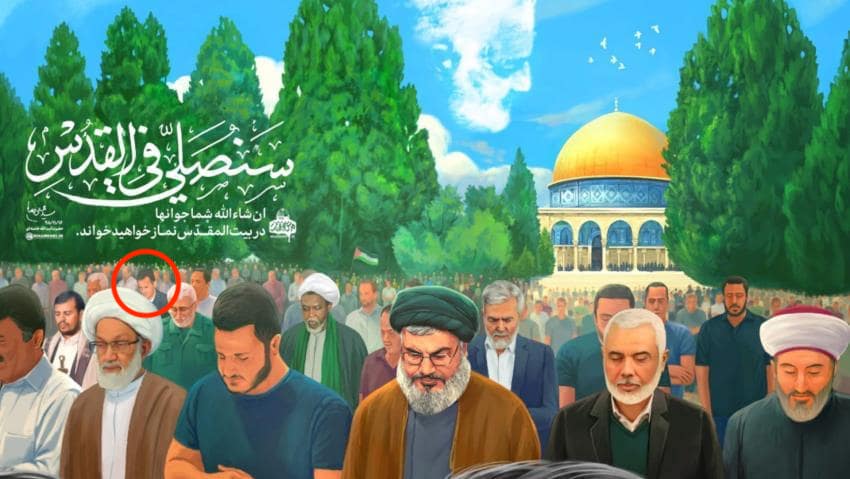 Khamenei's illustration: Assad (marked with a circle) is pushed to the back row
In the first row of leaders, the illustration shows Hezbollah Secretary Hassan Nasrallah, Hamas leader Ismail Haniyeh. In the second row stands Islamic Jihad leader Ziad Nahala, and other leaders supported by Iran. Even Qasem Soleimani, commander of the Quds Force of Revolutionary Guards who was eliminated by the US, can be seen in the background in the form of a cloud.
Compared to all the leaders in the front row, Syrian President Bashar Assad can bee seen in the very last row. This slight has caused an uproar on social networks in Syria. One user reacted angrily to the illustration, claiming that "Iran does not see Bashar Assad from a meter," and another user saw the illustration as proof of the inferior status of the Syrian president in the eyes of the Iranians, and wrote: "Did you know the value of Bashar Assad in Iran?"